Welcome
to Everglades University
Everglades University is an accredited, private not-for-profit university offering bachelor's and master's degree programs. We offer undergraduate degrees in Alternative and Renewable Energy Management, Environmental Policy and Management, Construction Management, Land and Energy Management, Surveying Management for Construction and Roadway, International Business, Alternative Medicine, Aviation/Aerospace, Hospitality Management, Business Administration, and Crisis & Disaster Management. In addition, we offer graduate degrees in Public Health Administration, Business Administration, Aviation Science, and Entrepreneurship. Concentrations are available. With small class sizes, innovative degree programs, and convenient scheduling to accommodate working students and adult learners, our university is committed to student success. Our focus for sustainability in 2016 is on the horizons.
Undergraduate and Graduate Degree Programs
Concentrations and Capstones are Available
Everglades University is Ranked Among The Top 50 Online Colleges by TheBestSchools.org For The 2nd Year In a Row
Everglades University, a private college established in 1998, enrolls nearly 700 students. A small, not-profit college, Everglades offers nearly a dozen programs leading to bachelor and master degrees.
Learn More
News & Announcements
Checkout the latest campus news and updates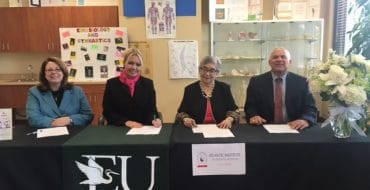 Everglades University Signs an Articulation Agreement with The Atlantic Institute of Oriental Medicine in Fort Lauderdale (ATOM). Pictured: EU President Kristi Mollis, ATOM President Dr. Yen, EU VP of Academics Jayne Moschella, and ATOM Executive Director Dort S. Bigg, JD For more information, please contact your campus.