Welcome to Everglades University in Sarasota!
The campus of Everglades University in Sarasota, FL is a spacious three-story building just off I-75 and University Parkway in Sarasota's Lakewood Ranch district.
The campus is approximately 43,000 square feet. This includes well-lit offices, classrooms, a spacious library, two computer labs, a student success lab, and two student lounges.
If you're considering colleges in Sarasota, FL, we encourage you to come visit the local branch of Everglades University to learn about all we have to offer you.
The Campus
The Sarasota Campus has installed several energy-saving devices on and around the campus thanks in part to the funding of Florida Power & Light (FPL), which helped to defray the cost of the project. The campus now has two solar trees, which Smart cars can plug into and recharge. There are also multiple rows of solar panels on the roof, as well as a wind turbine at the southwest corner of the campus, to help decrease the campuses' dependency on traditional energy sources.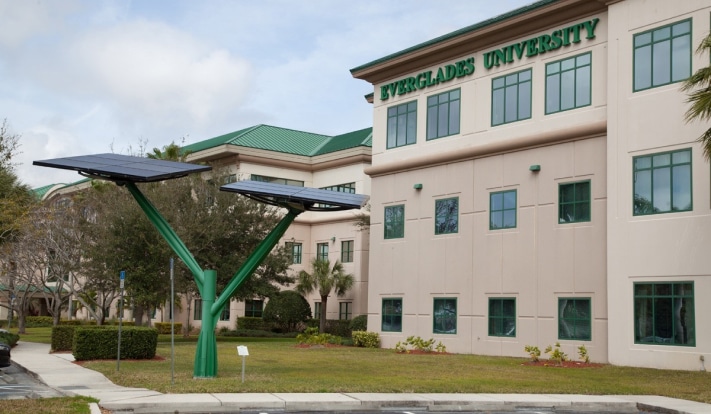 With additional funding assistance from Florida Power & Light (FPL), Phase II was recently completed to expand the solar project to include a teaching lab. This lab includes several different solar technologies with an outside covered area for holding classes where students may research the efficiency and reliability of different technologies in Florida's unique climate.
The University hopes to share their resources and knowledge by hosting local schools' educational field trips and community seminars to expose students to green career pathways and demonstrate green buildings/clean energy. The campus is surrounded by a beautiful landscape of more than 20 acres bordered by Lake Osprey (a protected nature preserve and bird sanctuary).
Why Go to College in Sarasota?
The city of Sarasota is a scene of eateries, theaters, shopping boutiques and artist enclaves. Running through the heart of downtown is Main Street and branching off this main drag are colorfully named streets such as Pineapple, Orange, Lemon and Palm.
More shops and colorful bungalows turned into bakeries, galleries, salons and yoga studios surround central downtown and are divided into five districts: Burns Court, Towles Court, Rosemary District, Historic Palm Avenue and Gillespie Park.
Even more is waiting to be discovered at Bayfront Park, Southside Village and other nearby locales.
Degree Programs Offered by
Everglades University in Sarasota