Technical Requirements
Read the Technical Requirements page.
1. Check your Browser by clicking on the Browser Test Button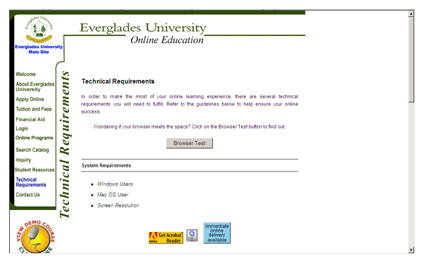 2. Download the appropriate Browser for your Operating System (it may take sometime, depending on your Internet speed connection)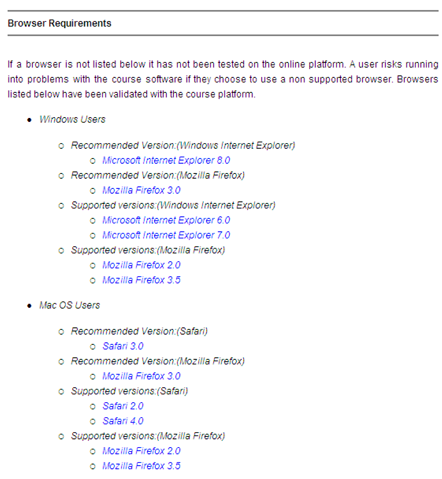 Mandatory Software - MS Office 2000 - MS Office 2003
Please note, if you are using a higher version of MS Office 2003, you must save it in the 2003 format before submitting
The remaining FREE software can be downloaded from the Technical Requirements page, such as: Real Player, Adobe Acrobat Reader, WinZip, and IE.
---
Login
Go to http://www.evergladesuniversity.org, and then click on Login, on the left side navigation bar. Make sure you type your USER ID and Password as it appears on the Orientation letter that you received from your campus. Pay close attention to lower or upper case letter(s) or dashes in between your social security number. Any little mistake can prevent you from getting into your course.

If you forgot your Password and User ID, call the Help Desk at 1-877-479-1640 or email at helpdesk@evergladesuniversity.org. They will email you your login information.
---
After You Login - Student Homepage
1. For information regarding the student services department, bookstore, library, and academic advisors click on the links in the left hand column of your Student Homepage.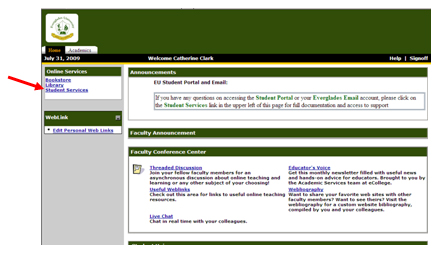 2. To go to the Orientation Course link (for new students) Click on the Academics tab then click on SOT Student Orientation Tutorial. This Orientation will help you understand how to move around inside the classroom.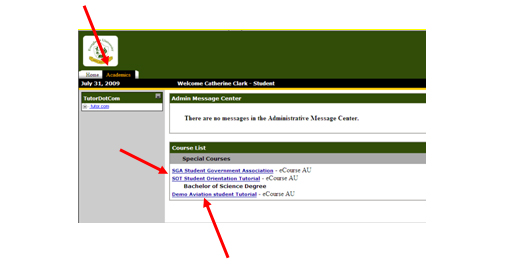 3. After you are done with orientation, you can start your class. Click on the Course link.
How do you find out which is your next class? About a week before your current class finishes, click on the sign next to the semester. When you click on that sign it will open the following semester with the name of your next class.

---
Inside the Classroom
When you log into your classroom you will need to do 4 things:

1. Print out the Syllabus (the work for all four or eight weeks will be shown)

2. Complete the Introduction

3. Electronically sign the Certification

4. Complete the Pre-Test

When you do all that is required you may start on your Week 1 assignments. Remember that weeks are restricted to Sunday through Saturday unless your instructor states differently. If you have any difficulty getting into your course make sure you call the Helpdesk, which is available 24 hours a day and 7 days a week. The Helpdesk number is 1-877-479-1640 and e-mail address is helpdesk@evergladesuniversity.org.