Everglades University is pleased to announce that your QEP is Here!
The pilot program for the University's Quality Enhancement Plan in
Writing for the Major
is under way in the Alternative Medicine Program.
Be on the lookout for improvements coming soon to a course near you!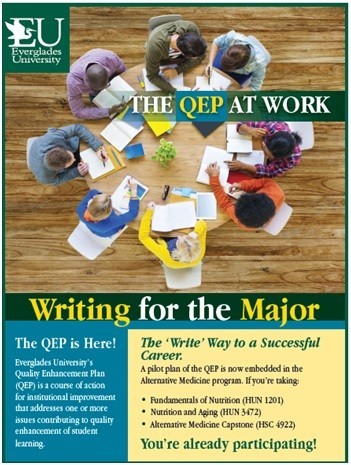 Everglades University is proud to announce that we are officially an "ICUF" member
ICUF stands for the Independent Colleges and Universities of Florida (ICUF). We are only the 29th school to become a member of this association. Some of the other members include:
University of Miami
Barry University
Nova Southeastern University
Embry-Riddle Aeronautical University
Lynn University
Stetson University
St. Thomas University
The benefits of this organization are tremendous and will provide additional services and options for our students and University.
Exciting News About SACS
We are pleased to announce that Everglades University is accredited by the Commission on Colleges of the Southern Association of Colleges and Schools to award bachelor's and master's degrees. The institution was initially accredited in June 2010, retroactive to January 1, 2010. Contact the Commission on Colleges at 1866 Southern Lane, Decatur, Georgia 30033-4097 or call 404-679-4500 for questions about the accreditation of Everglades University.