The future is green. As technology continues to change at an alarming rate, the world has turned its eyes to find new clean energy forms. Earning a degree in renewable energy allows graduates to choose where and who they want to work for. Not only do renewable energy careers help save the planet, but they also have plenty of job security. 
Renewable energy made up about 26% of the total global energy source back in 2018, expecting to climb to 45% by 2040. The demand for professionals in the renewable energy sector is high and will continue to be so as more people and governments choose cleaner green energy moving forward. 
There are many factors involved in creating and establishing renewable energy. The industry itself requires an enormous scope of professional positions to bring a project from start to finish. From engineering to software design to business development to construction, these are essential factors in boosting renewable energy. 
There are also different renewable energy industry sectors to choose from, including solar, wind, water, biomass, and geothermal. Consider these top 5 renewable energy careers that you can step into after earning a degree from Everglades University.
What You Need To Study for a Renewable Energy Career
At Everglades University, you can earn your Bachelor of Science degree with a major in Alternative and Renewable Energy Management on campus or online.
General Education Courses
All students at Everglades are required to complete general education courses that create a solid foundation of learning. There are 30 credit hours in total, and some standard classes include English, Computer Applications, Speech, Math, Humanities, and Science. 
Lower Division Courses
Eighteen credits of lower-division courses are required for every student in this field of study to help introduce the upper-level coursework that is to follow. These courses include OSHA standards, Accounting, and Introduction to Sustainability and Renewable Energy.
Interdisciplinary Studies
Everglades University offers students a chance to customize their degree with 21 credit hours of interdisciplinary studies. These can be a mixture of prior learning or experience as approved by the Dean. Most students, however, choose to take the following courses to fulfill this part of the degree: macroeconomics, marketing, MEP Plans and Specifications, Organization and Technology of Information Systems, Principles of Management, Project Management for Construction, and Financial Management. 
Upper Division Required Courses
These 54 credit hours are the majority of learning when earning a degree in Renewable Energy. Students receive a broad scope of learning to prepare them for an entry-level renewable energy career. 
Some of the classes include Codes and Standards, Business Ethics, Alternative Energy (residential and commercial), Construction Safety, and Energy Policy. Focus on each renewable energy source is also included with classes specifically taught on nuclear, wind, solar, hydroelectric, geothermal, biomass, and natural gas.
Top 5 Renewable Energy Careers
After earning your degree in Alternative and Renewable Energy from Everglades University, students can use their skills and knowledge to achieve a long-lasting and exciting career.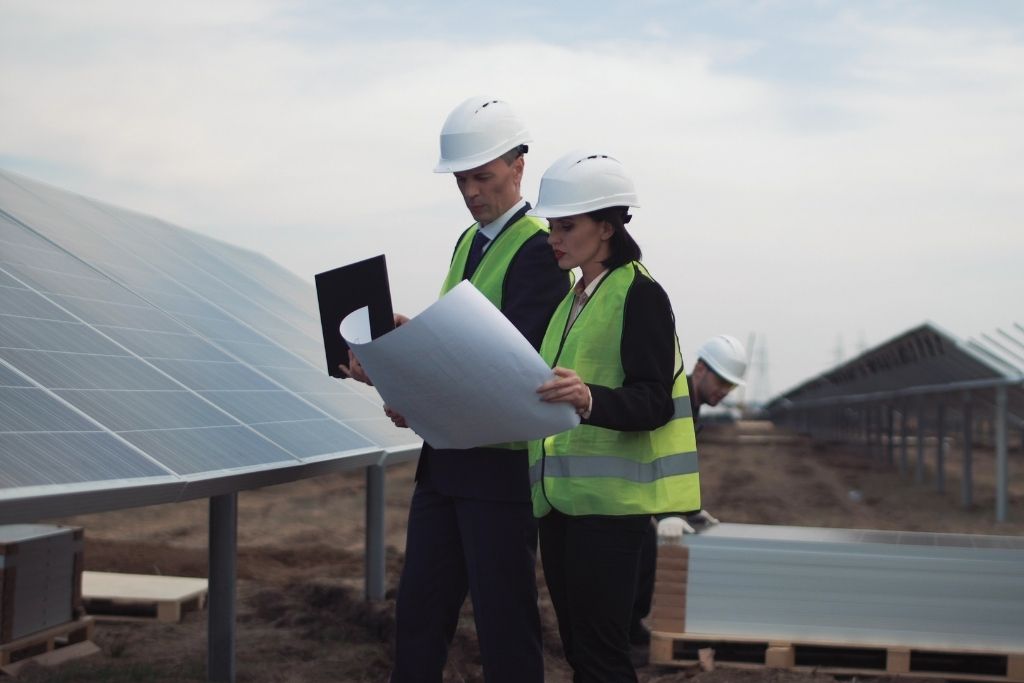 1. Solar Project Manager
Using the power of the sun is growing in terms of renewable energy. Solar technicians are those employees who manually install the solar panels onto buildings or on solar farms. With a degree in renewable energy, you could become a solar project manager that helps direct the entire installation process. Your skills and knowledge of the renewables sector allow you to understand solar energy issues and correctly see a project through to fruition.
Salary and Job Growth
Solar project managers make an average of about $80,000 per year. The career itself is expected to grow at 10% through 2028, which is much faster than other professions.
2. Sustainability Professional
Clean energy is a goal of the energy sector and many businesses that consume a lot of energy. Becoming a sustainability professional allows you to weigh in on a company's sustainability plan and help move the business forward to reducing its carbon footprint. Both medium and large companies hire sustainability professionals to create better energy protocols and show customers that they are doing what they can to be environmentally friendly. 
Salary and Job Growth
Sustainability professionals make an average of about $60,000 per year, depending on the company. Larger companies can make much more along with added benefits. The need for these professionals is expected to increase with the rising demand for clean energy overall. 
3. Clean Energy Sales Representative 
This is not your typical sales rep position. Using your renewable energy degree to enter the sales world helps explain solar energy to those behind the conference table. Sales reps with a background in renewable energy aren't just good with people, but they understand solar power science and construction. Becoming a sales rep for a green energy company pays well, allows you to travel, and can be a long-lasting career.
Salary and Job Growth
The salary for clean energy sales representatives can vary wildly depending on the company and the benefits included. Overall, professionals in this career earn an average of $60,000-$70,000 plus perks. With the clean energy sector only growing, more and more companies are being launched with plenty of opportunities to land a career in this position.
4. Training and Development Specialists
With clean energy soaring, the industry has jobs available for many entry-level positions and laborers. As a training and development specialist, you'll use your skills and education to teach daily skills to those working underneath you on a specific project. Training and developing employees to help build and create green energy systems is a meaningful career that requires good communication skills, knowledge of renewable energy, and the ability to teach others.
Salary and Job Growth
Training and development specialists' need is expected to grow almost 12% through 2026, which is much faster than the average job growth rate of 4%. Salaries can vary widely depending on the company and location. However, most training and development specialists can earn an average of $60,000 each year.
5. Renewable Energy Consultant
For those graduates who like to travel, becoming a renewable energy consultant may be the perfect fit. These careers are available through clean energy consulting companies, or you could branch out by yourself to create your own company. Renewable energy consultants visit different clients' solar, wind, or other clean energy source locations to increase the site's overall efficiency and productivity. It is an excellent career for those who like to work with people and enjoy meeting a challenge.
Salary and Job Growth
Renewable energy consultants can earn an average of $45,000-$65,000 per year. The job growth for this position is expected to grow and develop the clean energy sector. Travel costs and expenses are often in addition to the annual salary and other benefits.
Joining the clean energy market with a degree from Everglades University is an excellent opportunity to land a career in a fast-growing industry. Earning a degree in alternative and renewable energy allows you to have a wide variety of career opportunities in different clean energy sources and locations. 
Learn more about how to apply for this exciting field of study at Everglades University to land one of these top 5 renewable energy careers upon graduation.