Do all of your friends come to you when they need a reliable travel or dining recommendations? Are you intrigued by the dynamics and operations behind running a successful hotel or putting on a major event? If you answered yes, you might want to consider pursuing a career in Hospitality Management.  
From the front of the house to behind the scenes, hospitality managers are responsible for understanding business operations, finances, employee management and marketing for the property they are managing.
But what do hospitality managers' do exactly? Let's explore some of the most popular hospitality management careers to learn more.
What Are Some of the Top Hospitality Management Careers?
1. Hotel Manager
One of the most popular careers for hospitality management majors is a hotel or lodging manager. Like any successful business, every hotel needs a manager, and they'll need to have a firm grasp of the business and operations to keep things running smoothly. While the extent of a hotel manager's responsibilities will vary, here are some of the general responsibilities of a hotel manager:
Staff Management and Training

Managing Budgets

Maintaining Hotel Records

Scheduling Repairs & Maintenance

Coordinating events and bookings

Handling Customer Complaints

Marketing the Business

Maintaining Health and Safety Compliance
Keep in mind that the responsibilities will vary. A hotel manager working for a hotel in a small town might have more involvement with customers and day-to-day operations, while a hotel manager in a major city might spend more time overseeing operations behind the scenes in an office setting.
Salary Range: $34k – $104k per year
2. Event Manager
Event managers can work for a hotel, a casino, a convention center, or an independent business, sometimes they might even work as freelancers.
They are responsible for planning conventions, corporate meetings, weddings, or any large-scale event that involves coordinating with vendors and bringing people together. Here are some of the key responsibilities of an Event Manager:
Creating proposals

Researching and booking venues

Sourcing Vendors for catering, production, and other services.

Managing staff

Ensuring compliance

Coordinating between the client and outside vendors/contractors
For Event Managers, no two days are ever the same. Every event is unique, making it a great career choice for students who are interested in working with people, negotiating, and making sure that the show will go on.
Salary Range: $35-74k per year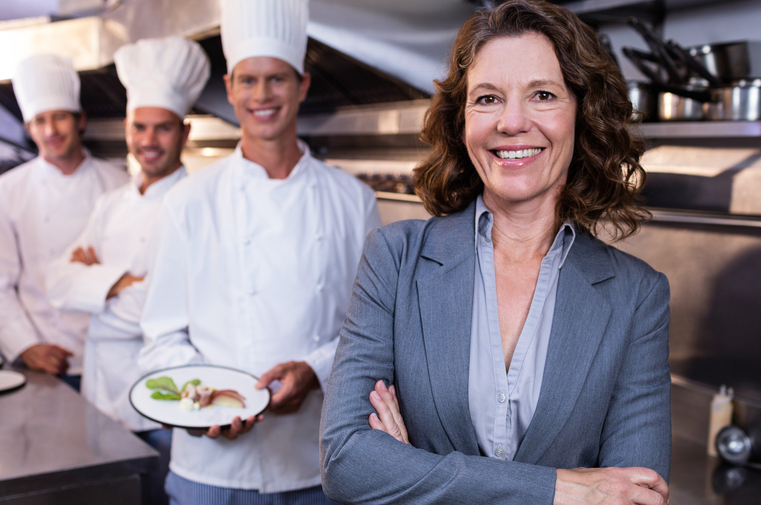 3. Restaurant Manager
While not every restaurant will require their Restaurant Managers to hold a bachelor's degree, many restaurants prefer candidates who have a degree in Hospitality Management. If you have restaurant experience already, a degree in Hospitality Management will serve to boost your career opportunities and earn you the possibility to earn a higher salary. The responsibilities of a restaurant manager might include:
Coordinating staff and scheduling

Ensuring the quality of food and service

Addressing customer complaints

Ensuring health and sanitation compliance

Maintaining a budget and reports

Marketing and promotions
Salary Range: $30k-57k per year
4. Food and Beverage Director
Food and Beverage Directors typically work at larger venues like convention centers or sports stadiums, where large quantities of food and drink are served. Generally, they'll work under a general manager who oversees general operations.
Food and Beverage Directors might not have to worry about things like keeping the bathrooms clean, but they are required to have a laser focus on their own department. A lot of venues make most of their profit from concessions, so the Food and Beverage Director is responsible for keeping the business profitable. Here are some of the key responsibilities of a Food and Beverage Director:
Managing inventory

Developing and updating menus

Staff management

Food storage management

Maintaining compliance for health and sanitation

Vendor coordination
If you're passionate about creating culinary experiences and staying ahead of the curve in the culinary world, a career as a Food and Beverage Director might be right for you.
Salary Range: $40k-101k per year
5. Casino Host
A Casino Host has an interesting job in that they are not only responsible for making sure all of their guests have an amazing experience, they're also required to pay extra close attention to high rollers and repeat customers.
Good interpersonal skills are a must for this job. Casino Hosts will need to spend a lot of time on the casino floor, locating high-spending customers and offering them discounts, free rooms, and whatever else is required to keep them in the casino. Other responsibilities include:
Marketing for the casino

Maintaining regular contact with frequent visitors

Relationship building

Competitor research
Keep in mind Casino Managers should also expect to get to know table dealers and floor staff, as they are the best resource for identifying and understanding the casino's top customers.
Salary Range: $35k-68k per year
6. Director of Housekeeping
A Director of Housekeeping is in charge of maintaining cleanliness and managing housekeeping staff at a hotel, cruise ship, casino or convention center. Generally, they'll report to the general manager.
A Director of Housekeeping will need to work closely with their staff to make sure they're meeting established standards. They will also coordinate with the general manager to make sure they have all the supplies they need, and to identify any issues that need attention. Other responsibilities include:
Staff management

Performing regular inspections

Maintaining high standards of cleanliness

Developing and maintaining housekeeping procedures

Inventory management
Salary Range: $36k-83k per year
How to Prepare for a Hospitality Management Career
If you have a passion for hospitality and aspire to pursue a career where you can deliver delightful experiences on a daily basis, a Bachelor of Science degree in Hospitality Management is an excellent place to start.
Our program offers students a well-rounded view of the hospitality industry by providing instruction in management,  finance, and marketing.
Ready to get started? Contact Everglades University to learn more about our Hospitality Management program.