It's clear that the future of the construction industry is going green. Sustainability is becoming increasingly relevant in new building and construction projects around the world. In fact, the International Labor Organization estimates that green construction projects will create more than 6.5 million jobs by 2030.
If you're considering a career in construction, you'll want to become familiar with general sustainable construction practices to be competitive in the field. To help students prepare for a successful career in Construction Management, Everglades University has partnered with The Leadership in Energy and Environmental Design also referred to as LEED.
Let's explore everything you need to know about LEED, LEED certifications, and how LEED credentials can boost your career.
What Is LEED?
LEED is the US Green Building Council's gold standard for sustainable construction and is the most widely used green building standard in the world. Through providing a framework for healthy, cost-efficient green buildings and projects, LEED is paving the way for a green future.
LEED standards can apply to any kind of construction. Residential buildings, commercial buildings, and remodeling jobs can all receive LEED certifications. Even entire cities can become LEED certified by meeting certain water and power distribution standards.
LEED standards also apply to all phases of a sustainable construction job. From the design phase down to the paint job, every step of a project can be LEED certified. Since LEED ratings are based on a points scale, and points can be earned every step of the way, the best-rated projects aim to meet LEED standards from the very beginning.
There is no one thing that will make a building or project LEED certified. Rather, a variety of factors will contribute to a project's LEED rating. In the design phase, it's important to consider not only what materials are being used, but also the environmental impact on the surrounding area. Accessibility to public transportation is also helpful.
Energy and water efficiency are some of the most important factors that determine a building's sustainability. Indoor air quality, atmosphere, and innovation are also factors, but they have a smaller impact on the LEED score.
As you can see, LEED is important not just for construction workers, but for everyone involved in a building project, from architects to interior designers. It's particularly important for construction managers since they oversee entire projects. Even if only one or two phases of construction are going to be LEED certified, the project manager will need to have proper credentials.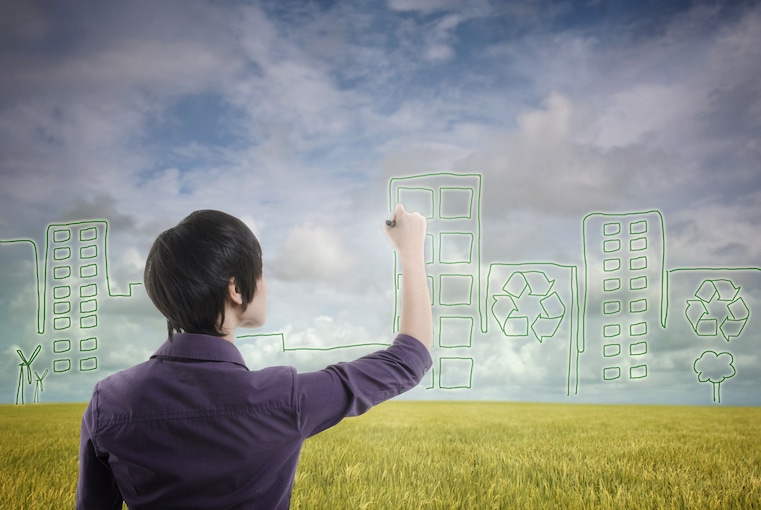 Why LEED Is The Future Of Sustainable Construction
Over 2.2 million square feet of buildings receive LEED certifications daily, and this number is growing. Because LEED is such an influential program, it's not limited to the US. LEED certifications are recognized in 165 countries, so LEED-certified construction professionals are in high demand.
It's no surprise sustainable construction is growing in popularity, it's good for our environment, our communities, and the people who live and work in sustainable projects. Sustainable constructions are also more cost-efficient. According to the USGBC, LEED-certified buildings are worth 4 percent more than comparable non-LEED project due to lower maintenance and energy costs.
For homeowners and property managers, LEED construction can be even more valuable as certified buildings cost 20% less to maintain. From 2015-2018, the USGBC estimates that LEED-certified buildings have saved $1.5 billion in energy costs, $145.9 million in water, $715.2 million in maintenance, and $54.2 million in waste savings in the US alone. A small upfront investment in sustainability pays for itself over time.
With all of these benefits to LEED construction, it's no surprise that more and more builders are taking LEED certifications seriously. From 2015-2018, LEED-certified buildings rose from 48% to 84% of nonresidential construction.
In many ways, sustainable construction can be viewed as a necessary protection for our future. As of 2018, buildings consumed 41 percent of US energy. That's more than industrial use (30 percent) or transportation (29 percent). If just one in 100 homes were retrofitted with water-saving fixtures, US greenhouse emissions would drop by 80,000 tons of CO2, which is the equivalent of taking 15,000 cars off the road.
LEED doesn't just apply to construction, either. It also applies to energy management, environmental management, land management, and even disaster response. LEED certified professionals work in many fields, but all with the same goal; to save energy, and help our planet.
With the huge wins for project managers, tenants, and the environment, it's no surprise that LEED is the future of construction, in the US and around the world.
Getting Your LEED Certification
To get all these projects done, there's a huge demand for LEED-certified construction professionals. This has been a challenge for people who are already working in construction. People with established careers are finding that they need to go get certified in order to keep working. For people who are new to the field, it's much simpler; just get LEED certified while you're working on your degree.
To get your LEED certification, you'll need to pass the official LEED certification exam, which is offered by Green Business Certification, Inc. There are four different tests, depending on what you want to certify in. Tests are offered for Building Design & Construction, Operations & Maintenance, Interior Design & Construction, Neighborhood Development, and Home Construction.
Technically, there's no prerequisite for taking the tests, but unless you have years of construction experience, they're not going to be easy to pass. On the other hand, you'll probably want a degree in construction management if you're going into this field, to begin with.
In 2016, Everglades University partnered with Pearson​, one of the world's leading education companies, to offer a sustainability course that's now a required course in all of Everglades University's undergraduate degree programs. All undergraduate students at Everglades University completing this course get a certificate of completion from the USGBC (United States Green Building Council).
In addition, Everglades University's ​Bachelor of Science Degree program with a major in Construction management​, through this partnership with the USGBC, has embedded the LEEDS certification information into its curriculum preparing students to sit for three of the four required tests for the LEED certification after completing these courses. This further prepares EU Construction students for success in the construction industry.
If you're interested in a career in construction management, contact us today. Your new career is just around the corner.