Launching a career in aviation with a concentration in unmanned aerial systems is easier than most expect.  Even if you are not a tech wizard, an engineering genius or a mechanical guru, you can earn a BS in Aviation/Aerospace with a Concentration in Unmanned Aerial Systems (UAS) and land a salaried job without delay.  
Our undergraduate aviation/aerospace degree program has served as an invaluable stepping stone for countless people looking to work with unmanned aerial systems in a salaried position with benefits and ultimately get the most out of life.   
Earn Your Aviation/Aerospace Degree and Start Your Career 
As long as you are willing to learn about this emerging technology and work hard, you will succeed with an Everglades University Aviation/Aerospace degree in-hand.  In particular, our Bachelor of Science Degree in Aviation/Aerospace with a Concentration in Unmanned Aerial Systems (UAS) will prove particularly helpful to those looking to kick-start a career in this dynamic field.  Our undergraduate program provides students with a diverse array of aviation courses as well as management courses and UAS concentration courses intended to prepare students for FAA Certification.
The purpose of the degree is to prepare Everglades University graduates for job placement and subsequent career advancement in the aviation field. 
Opt for a concentration in unmanned aerial systems and you will be exposed to the essential elements of operations.  Our students are provided with a robust aviation foundation that serves as a launching pad for career success. Whether you would like to work as a technician, sensor operator, a mission planner or in another role in the unmanned aviation field, you will feel perfectly comfortable segueing to one of these lucrative positions after completing our degree program. 
Once you have earned your degree, you will have the knowledge, skills, and confidence necessary to succeed in the incredibly dynamic field of aviation. The program requires the completion of 123 credit hours across 41 months.  Examples of courses include Introduction to Aviation Security, Aviation and Airport Security, Federal Aviation Regulations, Air Traffic Control and Principles of Management. Upon completion of the degree program, students will be prepared for the FAA Title 14 of the Code of Federal Regulations (14 CFR) part 107 exam required for certification.
What Is an Unmanned Aerial System?
Unmanned aerial systems have emerged as one of the top disciplines in aviation studies.  Unmanned aerial systems are currently used and will be used in an array of fields in the years to come.  Industries ranging from delivery services to agriculture, the military, first response, and telecommunications will rely on unmanned aerial systems.  In short, unmanned aerial systems are drones or other flying machines operated by an individual outside of the vehicle.  
As an example, most people think of drones when someone mentions unmanned aerial systems.  The merit of this technology is that there is no need for a human pilot to put his or her life on the line by occupying the aerial vehicle.  Rather, the drone or other machine is controlled from afar, somewhat similar to an individual using a video game controller to play a video game.
Career Outlook and Salary for Unmanned Aerial System Careers 
Though the Bureau of Labor Statistics does not track salaries and the job outlook for those who work with unmanned aircraft systems, every group who keeps tabs on this industry is quite bullish on its career prospects across posterity. According to the Association of Unmanned Vehicle Systems International (AUVSI), in excess of 100,000 jobs will be generated between 2015 and 2025.  
The number of jobs in the unmanned aircraft systems field will double in the aforementioned decade.  In other words, unmanned aircraft systems represent a legitimate and lucrative career path for youngsters as well as those looking to pivot between professions.  Those who pursue this field often work as operators/pilots of unmanned aerial vehicles, aerospace engineers and optical specialists.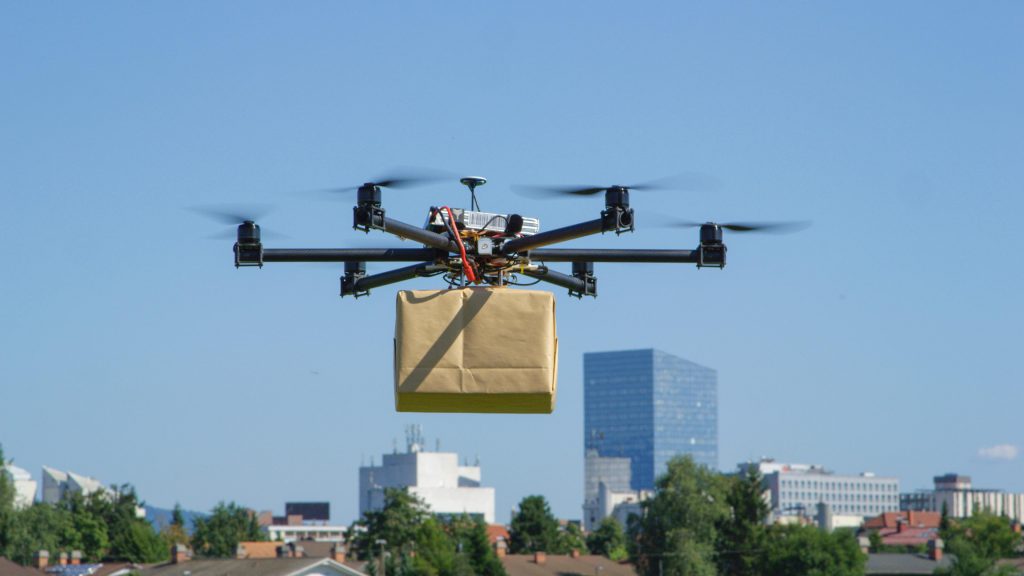 The Bureau of Labor Statistics reports electro-mechanical technicians who operate and maintain drones, as well as other unmanned aerial vehicles, earned a median salary of $55,610 in 2016.  
According to Glassdoor, drone pilots currently earn a median salary of $79,000.  However, this figure is slightly higher than expected as Glassdoors' calculations include manned pilots.  Glassdoor reports the base pay for UAS pilots typically falls between $62,000 and $70,000. Glassdoor also reports UAV operator positions with the government and military tend to provide an average salary in the range of $33,000 to $40,000.  
A recent economic study shows UAS engineers enjoy a beginning annual salary of $55,000.  However, the odds are this salary will gradually increase to the level of six figures in due time.  The AUVSI economic report showed UAS operator yearly salaries typically start around $45,000 to $65,000.  The report notes those who are positioned overseas are likely to earn that much more. IN the end, drone pilot salaries ultimately differ based on the industry as well as the employer. 
It should be noted that many positions in the area of UAS will require FAA Certification, luckily the degree program and concentration are designed to prepare students for success in the FAA Certification exam. 
Who May Want to Work in This Field?
If you have an interest in engineering, have a mechanical aptitude and/or have a passion for flight, you will find working with unmanned aerial systems quite rewarding.  Even if you are simply curious about technology, you will find this field proves interesting as it makes use of the latest tech advances. 
In other words, anyone seeking a mentally stimulating job that pays much more than a basic living wage and provides considerable security across posterity will excel in a career working with unmanned aerial systems.  
This is not to say that only teens and twenty-somethings will enjoy working with unmanned aerial systems.  Those who already work in another aviation field and those looking to shift industries as a mid-career pivot also have the potential to thrive in this emerging industry.  
What matters most is your willingness to learn and work hard.  If you have the will, Everglades University will provide the way. Give us a call or email us today for more information.