What is Hospitality Management?
If you've ever been on a cruise, stayed in a hotel, or dined in an upscale restaurant, chances are, a hospitality manager was behind the scenes, making sure things were running smoothly.
A hospitality manager is a person on a hotel, casino or cruise ship who is responsible for ensuring that each customer has a delightful experience. From the moment they check in until the valet brings them their car, the hospitality manager is for making sure a customer's every need is met.
From the flowers in guest rooms to meals to entertainment, a hospitality manager needs to have a firm grasp on the entire scope of their business. This requires some degree of expertise in all aspects of the vacation and travel industries, and plenty of attention to detail.
Let's take a closer look at the roles and responsibilities of a hospitality manager.
What is the Role of a Hospitality Manager?
Throughout their day, a hospitality manager must wear many hats. They have to oversee maintenance staff, food service staff, housekeeping staff, and, of course, they have to engage with guests. So, what is hospitality management like on a day to day basis?
Let's explore the day in the life of a hospitality manager. Lisa wants to get to work before most of the guests are awake, so she has an early breakfast and gets to the hotel early. She takes advantage of this time to check her email, and follow up on any loose ends from the day before.
When the morning rush hits, she may need to spend some time helping out with customer service. She'll spend a couple of hours on the floor, handling customer requests and making sure her staff have adequate coverage for their respective areas of responsibility.
During the slower part of the day, she'll need to coordinate with her management team and follow up on any issues they have. This may involve bringing in vendors or subcontractors to handle specific jobs, so she'll need to have a good understanding of their responsibilities as well as her own.
Lisa will also need good time management skills to balance managerial responsibilities by getting to know her staff and delegating accordingly. A good hospitality manager will spend a lot of time on the floor, talking with staff and making sure they have everything they need to get their jobs done.
A career in hospitality management also requires flexibility, and the willingness to step outside of your comfort zone. Depending on the type of establishment she works for, Lisa may also be responsible for marketing, promotions and other tasks that may fall out of the scope of the day-to-day operations of the establishment.
What Careers are Available for Hospitality Management Majors?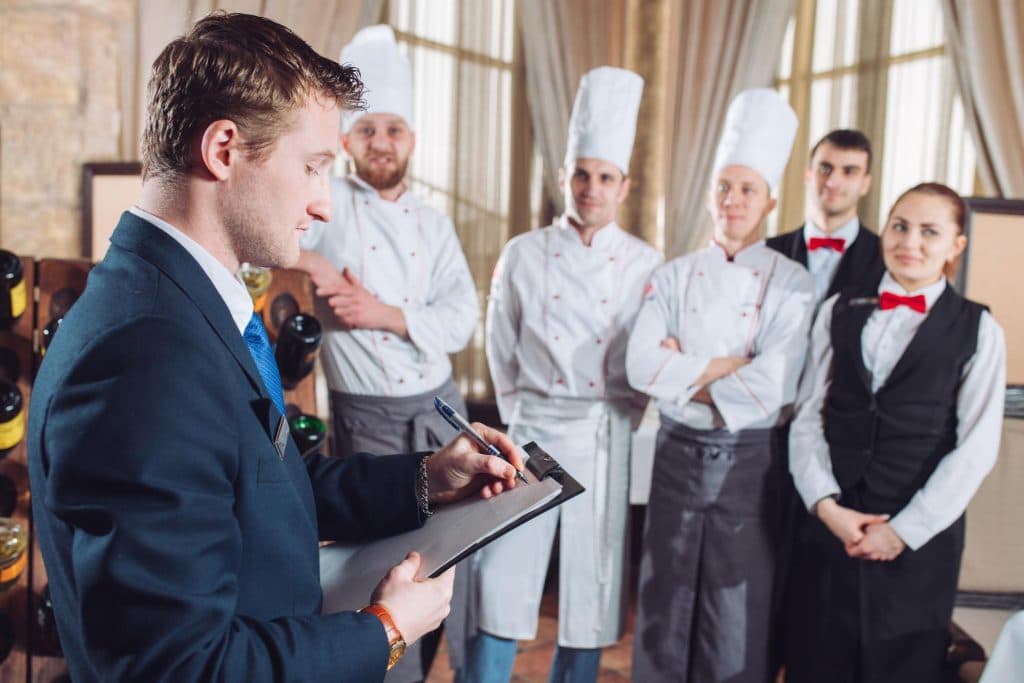 In addition to becoming a general manager, there are several career opportunities for people who have a hospitality management degree. Here are a few of the things you can do:
Accommodation manager:

While hotel managers are one type of accommodation manager, there are other types of jobs in this field as well. They include managing nursing homes, hospitals, dormitories, and conference centers.

Catering manager

: There are a lot of similarities between this and hospitality management. Most important is that you're creating an experience, not just a product, and customers will be looking to you if things aren't up to expectations.

Event manager

: As with all of the above careers, an event manager is tasked with managing the entire guest experience. In this case, it may mean running a conference or a convention. You'll need to have experience dealing with people in diverse fields in order to do this job.

Restaurant manager:

When people walk into a restaurant, they expect certain things. They expect to be seated promptly, receive good food on time, and to enjoy a pleasant atmosphere. A hospitality manager will need to see to all of these things.
How Much Does a Hospitality Manager Make?
So, what is a career in hospitality management going to earn you?
It depends on what type of job you take. In the US, hotel managers earn an average of approximately $50,000 per year. Keep in mind that this is an average. A manager of a small, rural hotel is going to make less than that, and a manager of a 5-star hotel in Miami Beach will earn considerably more.
These numbers may very well change as the hospitality industry continues to grow. And make no mistake, it's already a big industry. As of 2018, the hospitality industry had annual revenue of over $570 billion. By comparison, the entire US economy is worth $19 trillion a year.
What Education does a Hospitality Manager have?
While experience in the travel and hospitality industry is certainly valuable, most large establishments will require their general managers to have a Bachelor's Degree in Hospitality Management or a closely related field.
Hospitality Managers should have a solid understanding of the different aspects of the business they are managing, whether it be a full-service hotel or a busy restaurant. Everglades University's Bachelor of Science Degree in Hospitality Management is designed to provide students with a well-rounded view of the service and hospitality management industry focusing on the areas of finance, economics, marketing, and management.
If you're interested in taking the first step on the road to an exciting and promising career, apply online today. You'll be glad you did.