One of the keys to being successful in any career is to research as much as you can.
This research includes everything from the basics to what it takes to make it in that field.
You can look almost anywhere for the information you're looking for, but for most fields of study, books are still your best resource.
This is true for construction management, and there is plenty of useful construction management material out there to choose from.
Here, we'll go over ten of the best, must-read construction management books, in no particular order.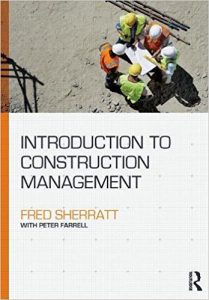 Introduction to construction management by Fred Sherratt:
We all have to start somewhere, and this text is a nice beginner's guide to construction management that includes terms and concepts that you'll need to know, along with examples and different perspectives so that you'll be prepared no matter what route you decide to go.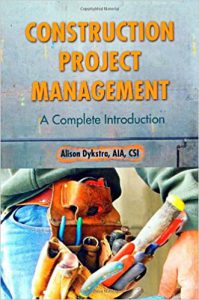 Construction Project Management: A Complete Introduction by Alison Dykstra:
This book goes in depth on the process of a construction project. It also attempts to answer any common questions you might have as you begin researching construction management.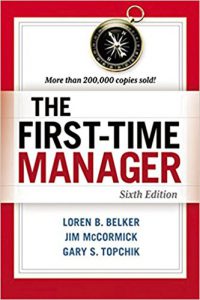 The First-Time Manager 6th Edition by Loren B. Belker, Jim McCormick, Gary S. Topchick:
Here you'll find the strategies that you'll need to take on your new role in management. This book goes over the topics that a typical manager will face, and is a great guide to understanding the responsibilities expected ahead in a career in management. Fun fact, this text is considered one of the best-selling construction management books out there. That should be enough to tell you that this book is worth checking out.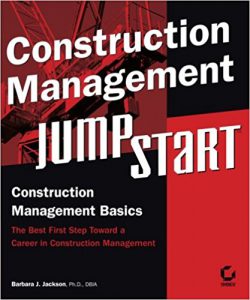 Construction Management JumpStart by Barbara J. Jackson:
This is another text worth reading, based on the fact that it was written by an experience construction management specialist. Knowledge coming from someone in the field will always be invaluable, and that is especially true in construction management. This book also includes important details to consider, like estimating project costs and ensuring project safety.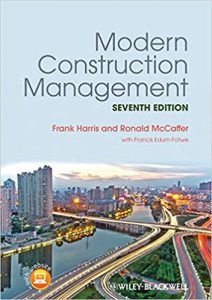 Modern Construction Management by Frank Harris and Ronald McCaffer:
This book is considered a core text in construction management studies, and that is definitely because of how in-depth it goes. This is a great resource to utilize because it covers the basics of construction management, methods, examples of real world situations and offers solutions, and then manages to go beyond that. It continues to update with the industry and trends, so that what you're learning reflects the world today.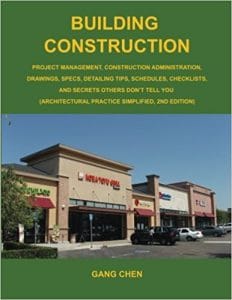 Building Construction: Project Management, Construction Administration, Drawings, Specs, Detailing Tips, Schedules, Checklists and Secrets Others Donʹt Tell You by Gang Chen:
It's good to be stay ahead of the industry, and the way to do that is to know as much as you can about the industry. This guide will help you with tips on construction management and provides a foundation for understanding the field. One of this book's greatest tools are the case studies it provides that will allow you to solve issues in the real world.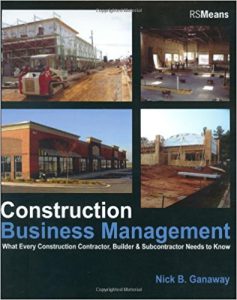 Construction Business Management: What Every Construction Contractor, Builder & Subcontractor Needs to Know by Nick B. Ganaway:
This is a can't-miss text in construction management. To be successful at just about anything, you have to learn from the mistakes. This gives you those lessons, the good and the bad, so that you can be profitable. It also doesn't hurt that the author has 25 years of construction business experience to back up what he's saying.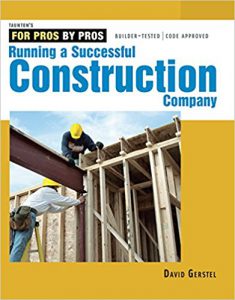 Running a Successful Construction Company by David Gerstel:
In this text you'll find more useful information that comes from first hand experience, this time from a builder with decades of it. In the field of construction, you'll face many challenges, and this guide breaks down what those challenges are.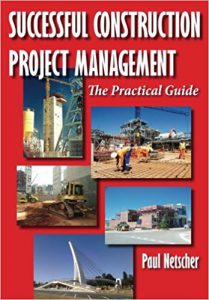 Successful Construction Project Management: The Practical Guide by Paul Netscher:
This book is another great guide for practical tips that will help you on your next construction project or if you've never been on one, help you get started. Want to avoid the hidden difficulties of construction management? Read this book for the what not-to-do perspective from people who've experienced it themselves.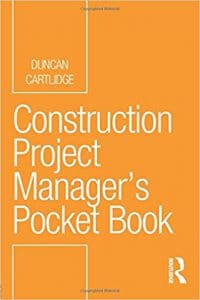 Construction Project Manager's Pocket Book by Duncan Cartlidge:
You can't go wrong having this handy, straightforward guide. This handbook goes through every activity relevant to a construction manager, and will help you build the skills necessary for the field.
If you had a chance to read any of these books and now want more in a more formal setting, Everglades University has a Bachelor in Construction Management Degree. If you're ready to study on a higher level, Everglades University also offers a Graduate degree in MBA in Construction Management.