So you want to get into project management but don't know where to start?
Or, are you doing more research to see if a career in project management is for you?
We're here to show you what you'll need to make a career as a project manager.
Project management is all about using skills and experience to get a project completed. So, it's important to know what those are in order to prepare for the next step.
Make sure you have the required management and technical skills
Having the right skills to be a project manager is the first step to finding a job in this field.
The role of the project manager is all about working with a team to get the job done.
This also includes making sure it's done on time and within budget. To be successful at this, you have to be a great people person.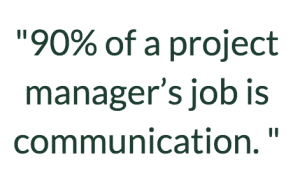 It is true that 90% of a project manager's job is communication.
This is true for most jobs, but in this field, it relates to clearly getting the vision and the goals across to the whole team.
Communication skills are also crucial to present the issues ahead of the project.
Related to communication, another skill that you'll need as project manager is the ability to negotiate.
You'll know the ins and outs of a project more than anyone else on the team, and because of this, you'll have to make decisions about schedules and finances.
With so many people on the team and different ideas, negotiations are inevitable. You'll have to negotiate with everyone so that in the end, they're happy and the project results are still great.
As a project leader, it is also important to have team management and risk management skills.
You have to see the big picture of a project in this career, which means you have to set goals for every person on the team and make sure everyone is on task.
Of course, this will sometimes present issues, especially when the team is big and the project has many moving parts.
This is where risk management comes in, because this involves seeing issues before they even happen.
Risk management is an invaluable skill in the field of project management, and can be the deciding factor for a successful project.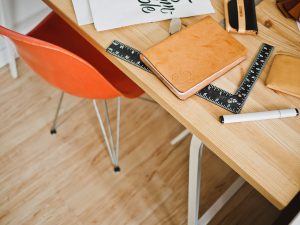 An important question to ask yourself before deciding to pursue a career in project management is, "Am I an organized person, in my work life and in my own life?" If so, then this might be the career for you.
In fact, project managers have to be extremely organized.
Organizational skills are important in almost any job, but they are essential to managing a project and keeping tasks in order.
Probably the most important skill you'll need to be an effective project manager is good leadership skills.
This works with team management skills, but a great team of creative minds needs a great leader.
You can be very organized, you can be a great communicator, you can have the vision and the experience. However, if you're not a good leader, the project at hand won't be as successful as it could.
Try an entry level job first that will boost your skills if needed
You might be telling yourself, "Well, I have some of these skills, but maybe I can't be a project manager because I'm lacking in a few areas."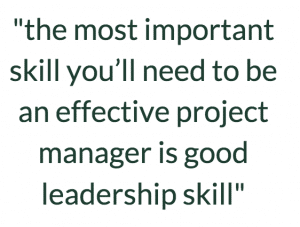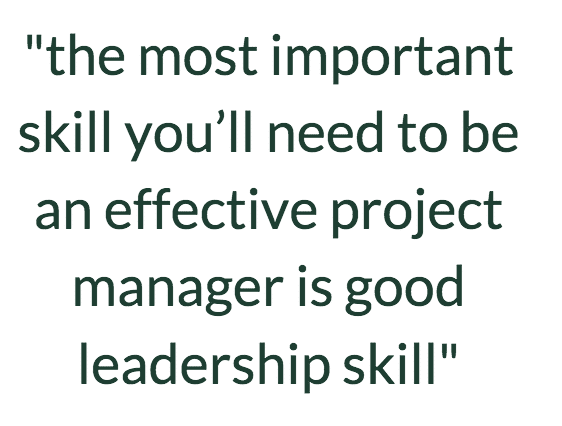 If you don't have some of these skills yet, work on them! Find an entry level position that will help you with the skills that you are lacking in.
Remember, it's never too late to learn something new.
You can definitely work on all of the essential skills over time and get to your goal: project management.
There are many related jobs out there that will be perfect on the road to a career in project management.
We all have to start somewhere, and the jobs below will be a great place to learn as much as you can before you reach the next level:
Project Assistant (This is the perfect position to get your foot in the door, and you can get hands on experience and get a better look at the project manager's roles and responsibilities.)
Risk Analyst (As we discussed, being able to see the risks and issues associated with a project before they happen is a crucial skill to have as a project manager.)
Event Organizer (This is a great position to learn planning and the necessary management skills to see a project all the way through.)
Office Administrator (Starting in this position will definitely help you gain the great organizational skills that will come in handy during any project.)
Sales Assistant (This may seem unrelated to project management, but if you were lacking in communication skills, you can boost them in this position.)
Learn the essentials with a degree and get a heads up in project management
Instead of trying to find a related entry level job, you can also get a degree to learn the phases of project management and be well equipped for the field.
Everglades University offers an MBA in Project Management, which prepares students for a great career as a project manager in any field.
As we discussed, crisis management and disaster skills are a huge part of being a project manager. Everglades University also offers a Bachelor of Science Degree in Crisis and Disaster Management.
We would love to hear your thoughts. What is your advice on getting started in project management?
Leave a comment below.